Bitcoin ETF, 'futures' — just WTF are they? And why?
What is the significance of all that? Why are all these big finance firms putting so much effort into these mainstream instruments?
I write a newsletter on Bitcoin and cryptocurrency every Sunday morning that reaches thousands in North America. Got this from a friend? Sign up below. — E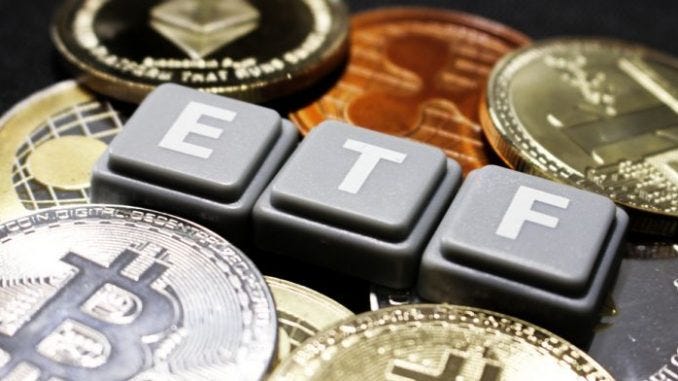 A prominent proposal for a U.S. Bitcoin-based exchange-traded fund (ETF), a mainstream investment vehicle, has been withdrawn, media reported the past week.
That proposal had been backed by in part by the finance giant Chicago Board Options Exchange. Its proponents pulled it after switching gears to offer the ETF to institutional, rather than everyday investors, a move with less red tape.
But the U.S. investment firm Bitwise pushes on with its own ETF proposal.
Meanwhile, Bakkt, owned by the parent of the New York Stock Exchange, is launching on Monday a type of mainstream investment instrument called "futures" that will be the first to be backed by actual Bitcoin.
Then Chicago's CME Group — the world's largest platform for futures, which already offers those instruments for Bitcoin, albeit not backed by actual cryptocurrency — said it is expanding its choices. Traders will have another way to bet against the value of their Bitcoin futures through an instrument called "options."
So, what is the significance of all that? Why are all these big finance firms putting so much effort into these mainstream instruments?
Take gold as a case study. Over the last 20 years, it has risen almost 500 per cent. But short of actually buying bars, it's been hard to profit off it.
Enter the gold ETF in 2003, backed by the commodity and whose price is perfectly correlated, traded publicly just like a company's shares.
Suddenly, everyone can easily invest in gold. Prices surged.
It is the same thinking behind all the mainstream instruments for Bitcoin. More money may flow into the space. Perhaps that is why the ETF's withdrawal could be deemed bad for prices.
Bitcoin sits perilously at $9,990 (C$13,815) as of noon Sunday, Eastern Time, down 3 per cent for the week. Bitcoin could fall further, technical analysis shows.
But then again, Bakkt next week is good for prices, observers say.
Canada: taxman comes for the bankrupt Quadriga
The Canada Revenue Agency has become the fifth government agency to investigate QuadrigaCX, once the country's largest cryptocurrency exchange, which collapsed after the death of its founder. The taxman is focused on the company itself, not individual users. But the trustee overseeing bankruptcy proceeds notes the cost of responding to requests from various agencies will affect how much money is available to repay users.